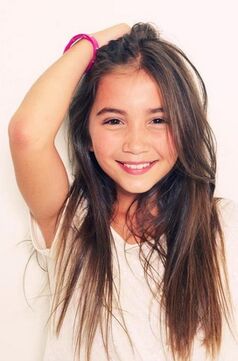 Hannah Takayama is the Fanmade 14-Year Old Twin Sister of Harry Takayama. She is Portrayed by Rowan Blanchard.
Biography.
Edit
Full Name: Hannah Alexandria Takayama.
Ages (Actual TV.): 5-6 Years Old in Season 1.  6-7 Years Old in Season 2.  7-8 Years Old in Season 3.  8-9 Years Old in Season 4.  9-10 Years Old in Season 5.  10-11 Years Old in Season 6.  11-12 Years Old in Season 7.  12-13 Years Old in Season 8.  
Ages (Additional Seasons): 13-14 Years Old in Season 9.  14-15 Years Old in Season 10.  15-16 Years Old in Season 11.  16-17 Years Old in Season 12.  18 (Parrell Universe as a Repeating Student)  7 ( Shortly, Flashback in Trip to Childhood)  12,000 ( In Geek Con as Princess Lela)
Current Age: 14
Birthday: May 13th, 1982.
First Apperance: Stephanie Becomes a Criminal. (Season 9.)
Last Apperance: N/A
School: Dimaggio Junior High School: 7th Grade.
Portrayer: Rowan Blanchard.
Friend(s): Gia Mahan. (Best Friend.)  Stephanie Tanner. (Best Friend.)  Mickey. (Best Friend.)  Michelle Tanner. (Good Friend,)
Family: Harry Takayama. (Twin Brother.)
Other Names: Goody Two Shoes, Goody Goody Gumdrop, Star Student, Miss Takayama, Sis (Referred to by Harry), 
Personality and Traits
Edit
Hannah is a Sarcastic, Stylish, Best Friend to Gia Mahan and Stephanie Tanner. She does her best to keep Stephanie and Gia out of trouble and is considered the "Goody Goody Gumdrop" of the group, because she gets straight A's in every subject, has never got Detention, Suspenstion, or even a Grounding! Her Nickname is "GG Hannah", which stands for Goody Goody. In the Episode, Good Girl Gone Bad, Hannah's Personality changes complety! She doesn't pay attention in class, she shoplifts, She dyes her hair temporaly Blonde, and she even flirts with a couple of senior Boys! In, Parrell Universe, Everyone is the oppisode of their true selves: Kylie, Victoria and Quinn are Sweet as Sugar, DJ turns into a copy of Kimmy Gibbler, with Stephanie and Michelle Turning into Copies of Annie and Serena! Danny Turns into a careless Skydiver who lives in Kimmy's House, Kimmy turns into a complete, Troubleless Angel, Annie, Serena and Florida are the perfect sisters, Jesse turns into a Goody Goody, Rebecca turns into an Elvis and Priscilla Freak, the Twins are Girls, Named Nicole and Alexa, Gia turns into a straight A Student, and Hannah Turns into a Repeating Student with C's and D's and a file full of Detention Slips!
Education
Edit
When Hannah was in Preschool, she Went to Meadowcrest Preschool, the same preschool as Michelle, in the years 1984-1985.
In Grades Kindergarden through 5th Grade, the ages 5-11, Hannah went to Fraizer Street Elementary School, the years 1986-1991.
In Grades 6th through 8th, she attended Dimaggio Junior High School, at ages 11-14, the years 1991-1994.
In Grades 9th Through 12th, She Attended Bayview High School, at ages 14-18, the Years 1994-1998.
Hannah's Catchphrase, "That's Very Rude!" is a Parody of Stephanie's Catchphrase, How Rude.
Ad blocker interference detected!
Wikia is a free-to-use site that makes money from advertising. We have a modified experience for viewers using ad blockers

Wikia is not accessible if you've made further modifications. Remove the custom ad blocker rule(s) and the page will load as expected.