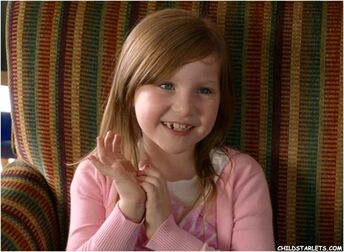 Kylie Morgan is a Bully and is the Nemisis of Lisa, Derek, Michelle, Denise and Teddy. She is the Best Friend of Quinn Anderson and Victoria Johnson. She is a Repeating 4th Grade Student in Michelle's Class.
Biography.
Edit
Full Name: Kylina Jennifier 'Kylie' Morgan.
Current Age: 10.
Birthday: July 7th, 1985.
First Apperance: A Friend for Michelle.
Last Apperance: N/A.
School: Fraizer Street Elementary School: 4th Grade.
Portrayer: Ella Anderson.
Friend(s): Quinn Anderson. (Best Friend.) Victoria Johnson. (Best Friend.) Michelle Tanner. (Frenemy.) Denise Fraizer. (Frenemy.)
Family: Jason Morgan. (Older Brother.) Jasmine. (Baby Sister.) Mrs. Morgan. (Mother.) Mr. Morgan. (Father.) Grandma Morgan. (Grandmother.)
Other Relationships: Teddy. (Enemy.) Denise Fraizer. (Frenemy.) Michelle Tanner. (Frenemy.) Lisa. (Enemy.) Derek. (Childhood Friend; Enemy.) Stephanie Tanner. (Enemy.) DJ Tanner. (Enemy.)
Ad blocker interference detected!
Wikia is a free-to-use site that makes money from advertising. We have a modified experience for viewers using ad blockers

Wikia is not accessible if you've made further modifications. Remove the custom ad blocker rule(s) and the page will load as expected.